Buy 2, 5% Off With Code:

 

SAVE5



Buy 4, 10% Off With Code:

SAVE10
Buy 8, 15% Off With Code:

SAVE15
Buy 10,

 Auto 20

%

Off 

At Checkout
Touch-Free Experience - The automatic soap dispenser is equipped with a smart motion infrared sensor that provides you with a sanitary, touchless, and easy-to-use experience without excessive spillages. 


No Messy Spills - The touchless soap dispenser valve automatically cuts off the liquid hand sanitizer gel, soap, lotion completely to prevent dripping, thanks to the automatic pump which helps avoid potential soap mess and make it hassle-free throughout the whole process.


Energy Efficiency & Space Saving - 4 AA-size batteries (not included) with low consumption design of the dispenser will allow you to use continuously for up to 1 year before having to replace them.
Large Capacity of 600ml (21 fl.oz) will spare your precious time and frequency for the repeated refill and allows you to buy hand sanitizer gel/liquid soap/lotion in bulk to lower your cost.


Safety Locking Design - Equipped with a safety key for leakage prevention and the auto dispenser is suitable for various public places to use, such as schools, hotels, hospitals, airports, restaurants, offices, etc.
Pumpless touch-free soap dispenser,  protecting you from bacteria and virus infection.
Anti-leakage design - The touchless hand sanitizer dispenser only activates when putting your hand under it within the responsive area of <6.5inch, no dripping or trailing with over 100,000 times test, no waste of sanitizer leakage or whatsoever.
Versatility - The wall-mounted hand sanitizer soap dispenser is a great fit for bathrooms, kitchens, laundry rooms, hotels, hospitals, restaurants, offices, schools, clinics, made to work with all types of liquid soap, dish soap, body lotions and so on.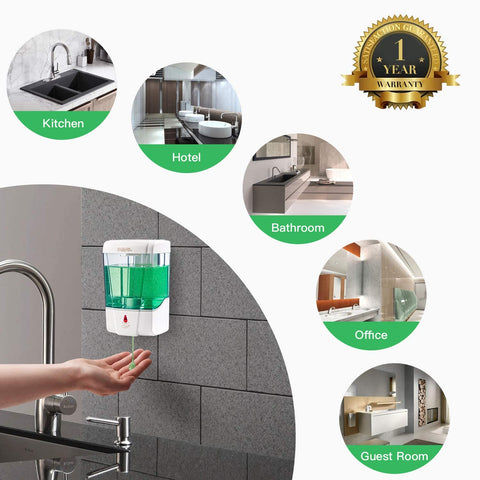 Specification:
Operation mode: with batteries
Dimensions: 6.49In x 4.33In x 3.93In
Main material: ABS   Model No: V-410
Volume: 600ml          Weight: 17.6 oz
Sensor responsive range: within 6.5Inch/10cm 
What's in the box?
1 x Automatic soap dispenser
1 x Installation screw set
1 x User manual
Maintenances:
1. Use non-granular, non-foaming liquid soap or hand sanitizer;
2. This is not a waterproof hand sanitizer holder, please do NOT install it in the shower room.
4. Clean the liquid outlet regularly to avoid clogging, clean the inside pump by filling warm water, and operate it a few times before storage.
5. Please clean the tank and take out the battery if you plan not to use it for a long time.
Notes:
1. For the first time to use this dispenser, you may need to operate it a few times to pump the air out.
2. Low battery indication: Time to replace the batteries when seeing the red LED light flashes fast.
3. Please install the dispenser with a vertical height more than 8-12 inches above the wall.
Free shipping 
All States: 8-12 Business Days. 
Australia: 8-12 Business Days. 
Europe: 8-12 Business Days. 
Canada: 15-20 Business Days.      

Please click here for shipping rate details. 
How fast do we ship?
We ship this product within 12hrs to get it to your door.
What's our refund/return policy?
For this product, we offer an exceptional 1-year refund, return, or exchange policy plus 2-Year warranty support. Our support email opens 24hrs & 7days with our team ready for your assistance anytime.