Comfortable, Convenient Cat Bubble Backpack Offers Great Companionship Our Furry Friends Need.
Most Popular Cat Window Backpack: made from eco-friendly, durable oxford fabric, and high-density acrylic which is scratch-resistant and rain drop-proof. Fits up to 14 lbs cats, puppies, rabbits, etc.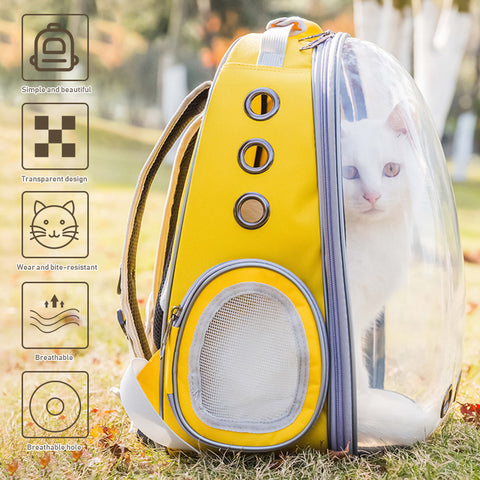 Transparent Window Cat Bubble Backpack: Unique clear window design enables pets to enjoy the view that eases their anxiety while on the go. Sided pockets allow parents to put a water bottle or snack in when ready to adventure.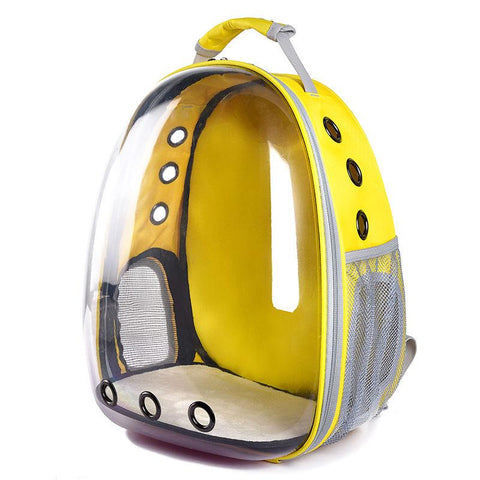 Comfortable for Small Pets: 9 big ventilation holes on both sides and front, left, and right for promoted air circulation for pets to stay cool inside. Added a sturdy bottom wear-resistant soft washable pad that makes pets comfortable and hygienic inside all the time.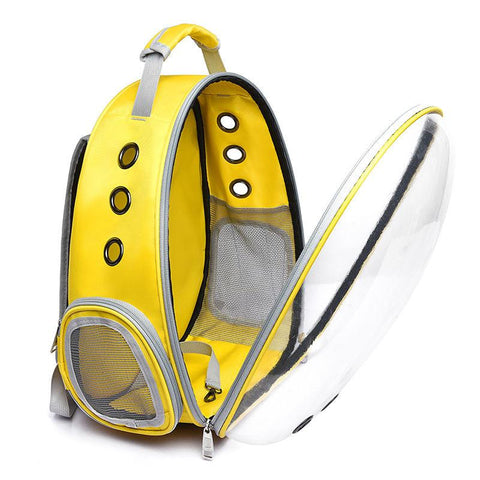 Comfortable for Pet Lovers: Adjustable padded shoulder straps combined with an adjustable chest strap to keep cat backpack securely worn in place. Can be carried either on the back or front, or switch to single-hand carrying anytime for the foremost comfort & convenience with the padded solid carrying handle.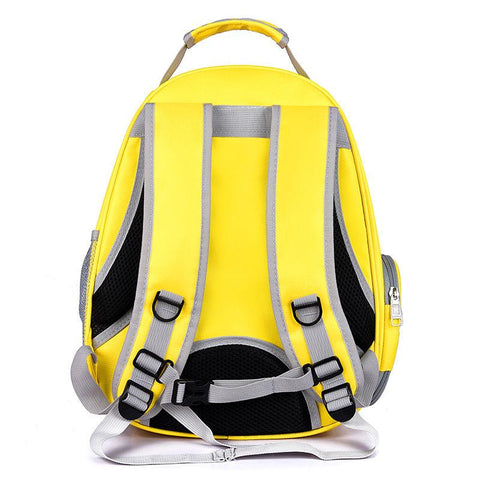 Built-in Elastic Security Lock: Prevent pets from sneaking out nowhere to be found when the bag is accidentally left open. The zippered side window works as a convenient door for pets to go in and out.
Most Airline Approved to place under the seat. With tremendous convenience on buses, subways. Get ready for a ton of compliments when traveling with your pets inside the cool see-thru window backpack.
Specifications:
Backpack weighs 2.7lbs and fits all pets under 14lbs.
1 Size = 16.5In x 14In x 10In, Material: PC shell + Oxford fabric
Package Includes:
1 x Backpack, 1x Soft Mat, 1x Security Leash 
Buy 2, 15% Off Code- DOG15
Free shipping
All States: 8-12 Business Days. 
Australia: 8-12 Business Days. 
Europe: 8-12 Business Days. 
Canada: 15-20 Business Days.        

Please click here for shipping rate details. 


How do we ship?
We ship this product within 1 day through DHL, UPS, FedEx, YunExpress to get it to your door.
Our guarantee
We offer an extended 90-day refund, return or exchange policy for this product.
Every order with a tracking number accessible within 3 business days.
Our support email opens 24hrs & 7days with our team ready for your assistance anytime.
>> Not sold in pet stores! <<