Casfuy 2021 Upgraded Dog Nail Grinder Features:

1. Built-in Led Light For Precise Nail Grinding.

2. More Powerful Motor With Great Efficiency.

3. Low Noise <50db Not To Make Pets Anxious.

4. Fit Wide Dog Sizes Range And Different Breeds.
5. USB- iPhone Charger Compatible 
2021 Upgraded Pro LED Pet Nail Grinder: equipped with a highlighted LED light, allowing you to grinder dog nails precisely to minimize the hurt or damage.
Super-power & Low Noise Motor: Casfuy LED dog nail trimmer is outfitted with an innovative motor with the latest technology adopted, the super-power speeds feature ensures a fast, effective, and professional-grade grinding experience.
The new superior motor produces a very low vibration and noise to keep pets calm while grinding, easy nail grinding work to be done within a few minutes.
Advanced 2-Speed Switch & 3 Grinding Ports: The pet nail grinder features an adjustable, low-high speed (7,000-15,000 PRM) design to support heavy grinding. And with 3 ports to match the small, medium, or large dogs for nail grinding, simply pick the appropriate port and speed mode to match your pet's size and nail hardness.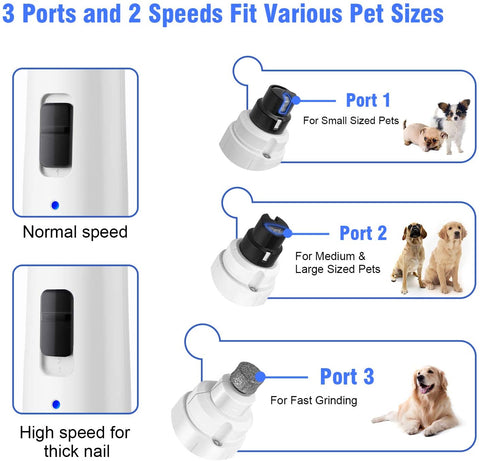 Long Battery Life, Rechargeable & Portable: The cordless dog nail grinder boasts a Ni-Mh battery that lasts 4 hours after a 2-hour charge. Lightweight and portable electric pet nail grinder, which makes it easy to maneuver the grinder to every corner of pets' paw.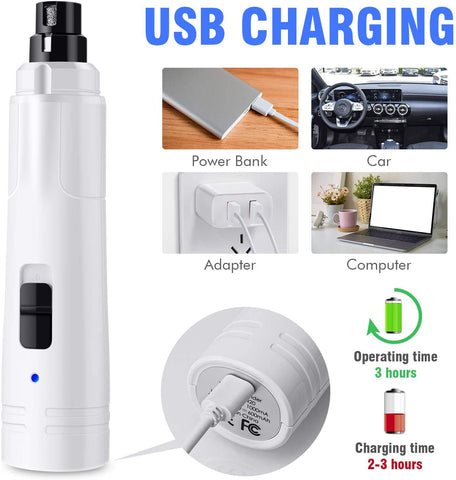 Recommended by veterinarians and pet grooming professionals: This electric pet nail grinder uses an advanced diamond drum bit to deliver the safest, most comfortable pet claw grinding experience for dogs, cats, and bunnies.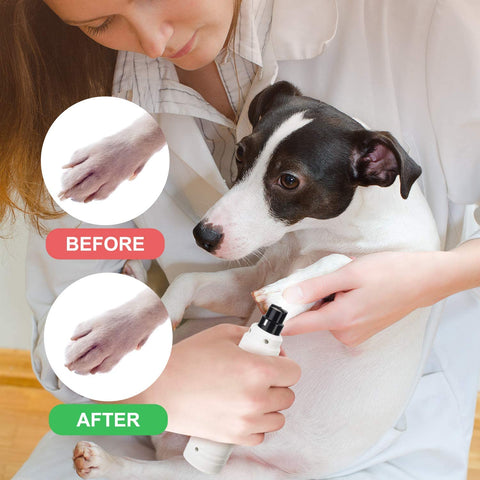 Specification:
Charging time: 2 hrs    Using time: 4hrs  
Requires 3 AAA batteries (included)
Dimensions: 7.91 x 4.06 x 1.73 inches; 9.95 Ounces
The package includes:
1. 1 x Dog Nail Grinder
2. 1x User Manual
3. 1x USB Cable(Adapter is not included)
Shipping Weight: 12 ounces
To make sure customers worldwide can charge the electric pet nail grinder with the universal different voltages, please charge it with a smartphone adapter, the USB outlet of the power bank/computer/car of great convenience.
Safety For Your Pets Comes First!
If your dog has long hair, you need to band it back so there's no chance it can get caught in the grinder's spinning tip.
If your dog has long hair on his paws and between his foot pads, it's best to trim it first to minimize the risk of catching it in the grinder. Using a small nylon stocking or a sock over the pet's paw and push the nails through a hole at the end to ensure only the nails are exposed is a good using tips for your reference.
For your pet's safety, it should not be more than 5 seconds for one lasting time, and be aware to adjust the grooming angle to polish pet nails.
Every dog has a different sensitivity, especially for some small or anxious dogs who will need your excessive patience. For more using suggestions, please read the user manual and tips which are included in the package.
Buy 2, 15% Off Code- DOG15
Free shipping 
All States: 8-12 Business Days. 
Australia: 8-12 Business Days. 
Europe: 8-12 Business Days. 
Canada: 15-20 Business Days.        

Please click here for shipping rate details. 
How fast do we ship?
We ship this product within 1 day to get it to your door.
What's our return/exchange policy?
We offer an exceptional 90 days refund, return, or exchange policy for this product to meet your 100% satisfaction. 
Our support email opens 24hrs & 7days with our team ready for your assistance anytime.