✅ Advanced 2-Speed Switch 
✅ Low Noise Grinder < 50 dB 
✅ USB Rechargeable & Portable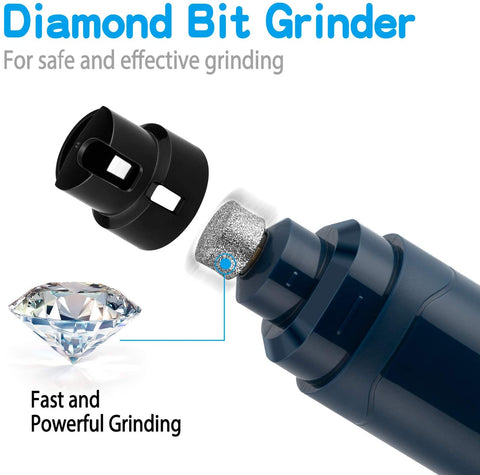 ✅ Safe, Effective & Precise Trimming: This dog nail grinder uses an advanced Diamond Bit Grinder to deliver the safest, most comfortable pet claw grinding. Recommended by veterinarians and pet grooming professionals, painlessly and precisely trim your pet's nails.
✅ Advanced 2-Speed Switch & 3 Grinding Ports: The trimmer features an adjustable, low-high speed design powerful enough to support heavy grinding. And with 3 ports to match the small, medium, or large-sized pets, simply choose the appropriate port and speed depending on your pet's size and nail hardness.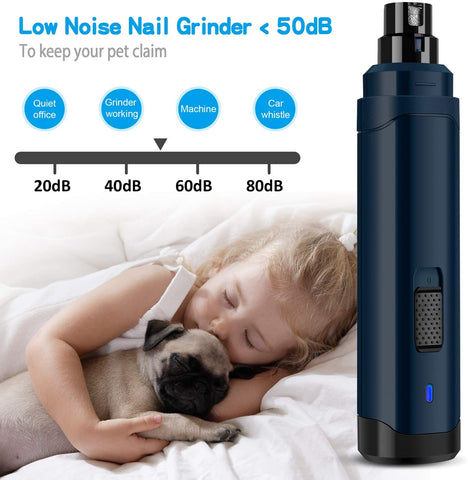 ✅ Super Low Noise & Vibration: Many pets get anxious by the sound and vibration of pet nail grinder. However, our electric pet nail grinder uses a superior motor with whisper-quiet technology that produces a very low vibration to keep pets calm and help sand pets claws faster and easier.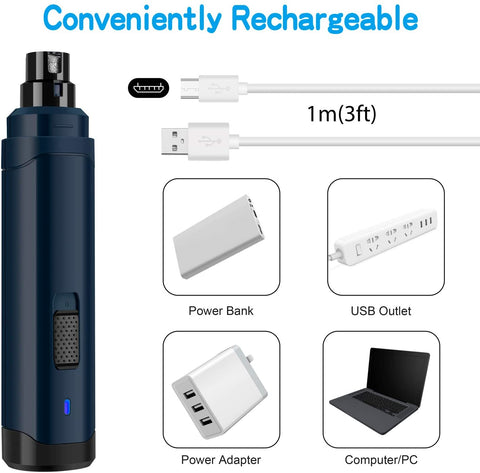 ✅ Rechargeable & Portable: The cordless dog nail grinder is rechargeable and has an indicator light on the bottom that turns on when charging. Each grinder has a built-in battery that lasts 4 hours after a 2-hour full charge. The lightweight and ergonomic body design of the grinder also make it easier to handle by both of your hands.
Specification:
Charging time: 2 hrs    Using time: 4hrs  
Requires 3 AAA batteries (included)
Dimensions: 6.9 x 3 x 1.4 inches
The package includes:
1. 1 x Dog Nail Grinder
2. 1x User Instructions
3. 1x USB Cable(Adapter is not included)
Shipping Weight: 10.2 ounces
✅ Safety Is Prioritized For Your Furry Friends!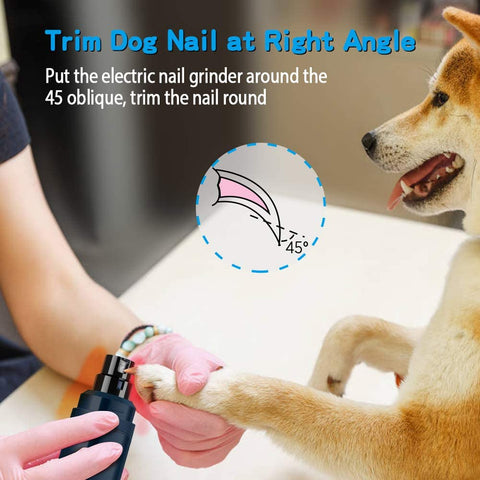 User guidelines:
1. If your dog/cat has long hair on his paws and between his foot pads, it's best to band it back or trim it first to minimize the risk of getting caught in the grinder before the process.
2. If you are not professional enough to use a grinder, we do NOT suggest taking off the guard protector.
3. For your pet's safety, it should not be more than 5 seconds for one lasting time, and be aware to adjust the grooming angle to polish pet nails.
 

Buy 2, 15% Off Code- DOG15
Free shipping 
All States: 8-12 Business Days. 
Australia: 8-12 Business Days. 
Europe: 8-12 Business Days. 
Canada: 15-20 Business Days.        

Please click here for shipping rate details. 
How fast do we ship?
We ship this product within 1 day to get it to your door.
What's our return/exchange policy?
We offer an exceptional 90 days refund, return, or exchange policy for this product to meet your 100% satisfaction. Our support email opens 24hrs & 7days with our team ready for your assistance anytime.
>> Not sold in pet stores! <<